About Us
Our Pastor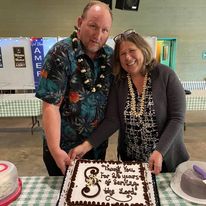 Tim Baugus is our senior pastor here at Hope Bible Church, a vibrant and multi-cultural family church nestled in Fayetteville, NC.
God has gracious allowed Pastor Tim to have over 27 fruitful years in church and school ministry. Pastor Tim's unwavering commitment to spreading God's message has touched many lives. Throughout his journey, Pastor Tim has been a guiding light in various churches across North Carolina, as well as on the island of Guam.
His passion for global outreach has led him to travel to regions such as the Philippines, Guatemala, Africa, Honduras, and El Salvador, where he has actively engaged in meaningful mission work.
Pastor Tim is a spiritual leader and a devoted family man. He and his beloved wife, Kim, have shared 29 years of marriage and have been blessed with two sons, two daughters, and two cherished grandsons.
As a lifelong learner and dedicated servant of God, Pastor Tim is currently pursuing his Master of Divinity (MDiv) at Shepherd's Theological Seminary in Cary, NC. Additionally, he is on a path to attain certification in biblical counseling, further enriching his ability to provide guidance and support to those in need.